Table Tennis Canterbury, New Zealand
Promoting and supporting Table Tennis in Canterbury since 1936.
---
Our aim is to foster the sport of Table Tennis in the Canterbury region.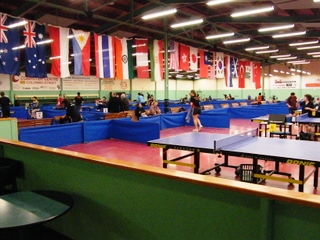 The TTC Stadium location:

294 Blenheim Rd
Upper Riccarton
Christchurch 8041
---
NOTICES
(Updated Monday 8th March 2023 at 07:30)
2022-23 Summer Interclub Results Round 11 now posted on the Interclub page.
2022-23 Summer Interclub ReDraw Div 1 now posted on the Interclub page.
The TTC stadium is unavailable for casual play Wednesdays & Thursdays from 7pm to 10pm
From 10th February 2023 (school terms only), every Friday evenings from 5.30pm to 7pm the stadium tables are reserved for the Canterbury Junior Representative squad training.
From 7th February 2023 (school terms only), the stadium is unavailable for casual play on Tuesdays between 6pm to 7pm owing to Junior Beginner group coaching.
2021 Table Tennis Canterbury Annual Awards - photos (facebook link)
Click here to see facebook post
2023 Table Tennis Canterbury Calendar of Events (updated 6th February 2023)

Click here to for TTC 2023 Calendar (PDF format)
Receive notifications of results, draws etc. by email
Would you like to be notified via email whenever our website gets updated e.g. new interclub results, draws changes, important notices about cancelations etc.? If so, please fill in your name and email below and submit. We will then sign you up to receive the notification emails. After signing up you should start reveiving notification emails within a week or so if the Interclub competition is currently running. (Please note your email will NOT be passed on to any third party and you can unsubscribe at any point).
---
Table Tennis Rules
Click here to take you to the ITTF Handbook webpage
Casual Play
The Canterbury Table Tennis Stadium is open every day or casual play, for a hit with your partner, work colleague or with one of a large group of your friends! Bats and balls are all provided. See Hours/Location/Cost for more details.
Stadium Bookings
Our Stadium is available for private bookings - for Table Tennis or other events. Our huge open plan floor space has been used for antique shows, a national fencing competition, poultry shows and many other events — Click here for further information Stadium Bookings.
Interclub Draws/Results:
Click here for Interclub Draws/Results
Stadium History:
See photos and read about how our floor was laid — Archives
---


© Table Tennis Canterbury 2022